Learn how remote viewings can help with your journey finding your dream home
What is a remote viewing?
A remote viewing is a live video-chat with an estate agent, where the agent is at the property you are interested in and they will tour you around the property using their camera. You can be in the comfort of your own home, or anywhere else, as long as you have reliable internet connection. As with an in-person viewing you can ask the estate agent questions and focus on any specific areas of the property which interest you.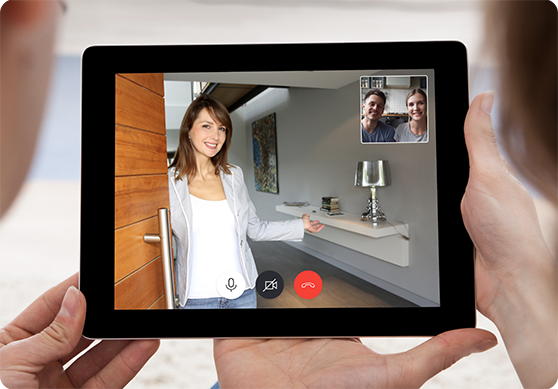 How can I arrange a remote viewing?
Properties which have this feature available on Kyero will show this on the search results page. When you reach out to the estate agent you can select this option on the enquiry form. Alternatively, some agents may not display that they offer this feature, but they may be able to arrange it for you if you ask.


What happens on a remote viewing?
After you have sent an enquiry to the estate agent they will be in contact with you to arrange a time for the remote viewing. They will also ask you if you have a preferred platform for the viewing, for example Skype, Whatsapp, Zoom, Facebook or others. If you need any help getting setup with these platforms the estate agent can help, or you can reach out to our team at help@kyero.com.
What do I need for a remote viewing?
You will need a stable internet connection, a device preferably with a larger screen than a mobile phone so you can see the video clearly. Access to the microphone of your device will also be useful so you can talk to the agent, as well as speakers so you can hear them.
Why do a remote viewing?
When you are interested in a property an in-person viewing is a very useful next step to decide if the property is suitable. Sometimes this is just not possible, for example if you are abroad and unable to travel so the next best way to see the property is with a remote-viewing.
Perhaps you are not quite sure the property is a good fit and you don't want to spend the time travelling to the property, in this scenario a remote viewing can help by providing you with a convenient & time-saving option.
Can I purchase a property after only seeing it with a remote viewing?
A remote viewing is useful for helping you learn more about a property in a convenient way, although we do recommend you visit the property in-person before parting with any money or signing any legal documents. At Kyero we trust our estate agents and do not allow private advertisers, but we do think there is nothing quite like experiencing the sights & sounds of a property in person and seeing how being in the spaces makes you feel. Buying a property is a life-changing decision, so being able to arm yourself with the most amount of information will help you have the smoothest journey. If you have any questions or would like to discuss this further our team are always available to chat at help@kyero.com, many of our team have also moved abroad so can offer you real life advice from their experiences.